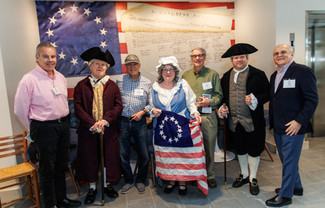 Residents of the 1,200-unit Hancock Village apartment community in Brookline now have access to a spacious, well-appointed facility to gather for an array of activities with the opening of a three-story, 25,000 sq ft community center on Independence Drive.
The Hancock Village Community Center celebrated its grand opening last week, with dignitaries from Chestnut Hill Realty, the Brookline Planning Board, Brookline Chamber of Commerce and the construction and architectural teams which helped build the facility in attendance. In a nod to Hancock Village's ties to our country's Founding Fathers through the naming of its streets and buildings, guests mingled with John Hancock, John Adams and Betsy Ross impersonators.
"The Hancock Village Community Center has been created as a gathering place where residents can live, work and play, along with entertaining their guests and meeting new friends," said Chestnut Hill Realty Founder/CEO Ed Zuker. "Surrounded by flowers and plantings pollinated through our Nature Positive initiative, the building seamlessly integrates into Hancock Village's award-winning landscaping and invites connection to the environment."
Centrally located in the heart of Hancock Village, the Community Center offers Village residents a convenient place to work, play, socialize or get fit. The state-of-the-art clubhouse features an array of indoor and outdoor activity spaces, including a pool and sun deck, fully equipped fitness center, resident lounges, game room, conference and event rooms, CHR HomeWorks private office space, adult outdoor fitness center, café and fireside terrace.
Residents will have access to the Hancock Village Community Center if they so choose, for an additional charge. Residents are under no obligation to join or use any of the offered activity spaces.
As part of its continued investment in the Town of Brookline, during the grand opening ceremony Chestnut Hill Realty presented a check for $297,000 to Alexandra Vecchio of the Brookline Department of Public Works to be used for renovations to the Baker School tennis courts, which borders Hancock Village.
###

Pictured: Chestnut Hill Realty Founder and CEO Ed Zuker (far right) celebrated the opening of the Hancock Village Community Center with community leaders and historical impersonators. Pictured L-R: Brookline Chamber of Commerce executive committee member Tim Kickham, John Hancock, Brookline Planning Board member Steven Heikin, Betsy Ross, Brookline Housing Advisory Board chair Roger Blood, and John Adams.