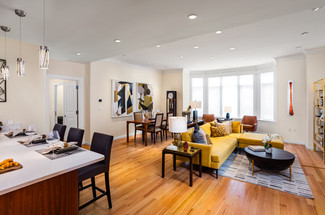 Hancock Estates was the recipient of five PRISM awards in multiple categories. The Builders and Remodelers Association of Boston (BRAGB), one of the leading trade organizations in New England, recognizes the finest projects and outstanding achievements of builders, developers, project owners, architects, marketing/leasing firms, remodelers and other professionals in the home building industry.
Hancock Estates received honors for the following categories:
Best Rental Community – Gold Award

Best Direct Mail Campaign – Gold Award

Best Interior Model in a Rental Community – Gold Award

Best Design for Outdoor Living -   Gold Award

Best Landscaping Design – Silver Award
"The PRISM award is highly coveted, and signifies excellence in the field and recognition of superior achievement. It was exciting to have everyone's hard work and outstanding efforts recognized and honored by an association of our industry peers," said Ed Zuker, Founder and CEO, Chestnut Hill Realty.