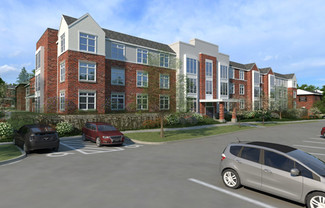 In keeping with CHR's strategy to improve the appeal of its communities and enhance the lifestyles of its residents, Hancock Village, acquired in 1986 and the Company's largest property, is undergoing an ambitious and exciting series of construction projects. The planned development will feature apartment designs and amenities that reflect contemporary tastes and trends in housing, which have changed significantly since 1946 when Hancock Village was built to provide housing for veterans returning from World War II.
The master plan includes 461 brand new luxury apartment homes situated in several different buildings through the property's existing 80-acre site. The new mix of apartment style will provide both townhomes and single-level living options of one, two and three bedrooms. In addition, 875 parking spaces will be created, of which 414 will be garage parking.
New active lifestyle-oriented amenities will include a three-story, 21,000 SF state-of-the-art community center/resident services offices that features a fitness center, Internet café, entertainment areas, lounge areas, and a business center with private offices. Directly adjacent will be a swimming pool with an expansive sun deck and café area for seasonal use. Also included in the plan is a new rubbish and recycling center that will serve the entire Hancock Village community.
The lease-up of the first phase of apartments is underway now, with move-ins anticipated to begin in February 2021.