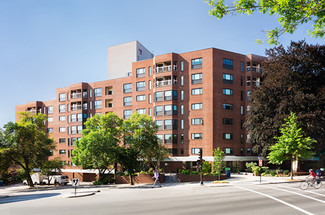 The Massachusetts Apartment Association has named Chestnut Hill Realty's 1443 Beacon Street as its Small Community of the Year for 2022.
Built in 1979 and purchased by Chestnut Hill Realty in 2015, the 118-unit, eight-story building is located in the heart of Brookline near Coolidge Corner. The community is comprised of one-, two- and three-bedroom luxury residences with an average apartment home size of 930 s/f.
All of the luxury apartments are finished in a contemporary, open floor plan style, featuring designer-quality kitchen cabinets, high-end countertops, oak floors, custom closets, and spa-like bathrooms.
Within the building, CHR's newly developed HomeWorks space offers residents tastefully designed, fully furnished private office suites. Full use of multiple conference rooms, printing resources, and refreshments are provided.
There are a range of upscale amenities that make 1443 Beacon Street stand out — a state-of-the-art fitness center, café area, resident lounge with fireplace and full kitchen, and concierge services. Perched at the edge of a Brookline park, the outdoor living space at the community gives the residents the illusion of being deeply secluded in the woods while providing unique space for relaxing. The rear patio area features a fire pit, comfortable chairs,  lush greenery, grilling area, stone bar top, several pergolas to provide shade and a swimming pool surrounded by an oversized, multi-level deck. The building also features a 122-space, two-story parking garage, a rare commodity in Brookline.
Previous winners of the MAA Community of Excellence Award:
2020      Hancock Estates, New Small Community