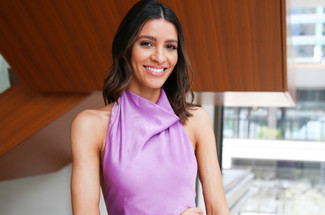 Hancock Village Resident Services Professional Whitney Torgerson was named Leasing Professional of the Year by the Massachusetts Apartment Association.
Whitney is consistently ranked as one of Hancock Village's top performing agents. She was recently appointed lease-up specialist for the new, 175-unit Adams Building in Hancock Village, a role that is in addition to her day-to-day leasing responsibilities within the 1015-unit apartment community in Chestnut Hill. Whitney holds an Apartment Leasing Professional certification and is a licensed realtor in Massachusetts.
"I have witnessed Whitney's growth over the past four years and feel confident saying that between her advanced leasing skills, rock solid work ethic, willingness to help and train her colleagues, and customer-first mindset, she makes an indelible contribution to Hancock Village," says Hancock Village Senior Property Manager Mike McHugh.
Previous winners of the MAA (previously known as RHA) Leasing Professional of the Year Award:
2019      Taylor Sudalter, Cambridge portfolio
2017      Emily Zambruski, Village Green