Danyel Zuker Rodgers, Edward Zuker, Lauren Zuker Siff, Bobby Zuker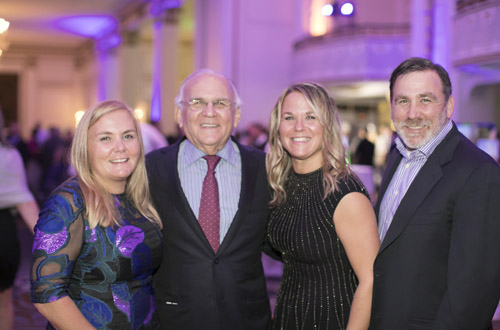 On Saturday, September 28th, CHR celebrated fifty years in business with an Anniversary Gala held at the Boston Park Plaza. 
The night began with music and a cocktail hour to receive the guests including Ed Zuker's family, close business associates and CHR employees. Afterwards the party moved to the Main Ballroom for Ed's welcome, followed by a surprise video tribute.
A timeline of CHR's history was created and coordinated with video interviews including key staff, family and special business associated - friends of Ed who started with him in the early years. Hearing the history, loyalty and love for Ed and CHR was incredible - making each interview heartwarming.
After speeches, dinner stations opened along with a photo booth, dancing and our roving photographer. A photo montage of fifty years' worth of pictures played on a loop throughout the evening.
Guests left with parting gifts including the special edition to the New England Real Estate Journal. The NEREJ supplement was a way to highlight this milestone for the rest of the industry to see. The CHR Timeline was highlighted at the centerfold showing the company's growth over the past 50 years.
The party both celebrated this special milestone and was a way for us to thank our employees for their loyalty, dedication and commitment to our family for so many years.