Director of Marketing, 25 years at chr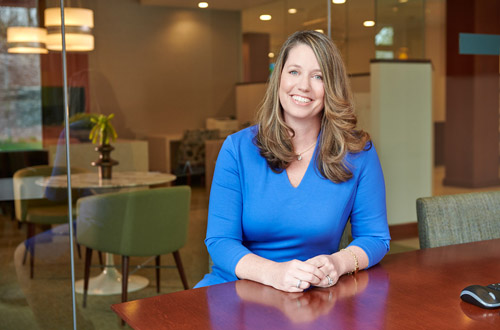 Joining Chestnut Hill Realty in 1986, Jen Murphy has held numerous property management positions in marketing, leasing and operations.
In her current role as Director of Marketing, she is responsible for the development, implementation, and coordination of all leasing and marketing programs. This involves working closely with the property management and leasing teams in order to optimize property performance and occupancy and ensure positive resident relations. In all, Jen helps oversee a staff of 45 people responsible for the leasing operation of 5,000 units at over 20 properties.
Jen plays a crucial role in staff development and education at CHR, having established the leasing training curriculum and overseeing the Company's semi-annual leasing training seminars. She serves on numerous committees at CHR, including Strategic Operations, Communication, Customer Service, Mentorship, Leasing and Marketing and Website. Additionally, she is a member of the Senior Leadership Team and has served as a member of the Yardi Task Force.
Jen is an active leader in the industry, affiliated with the National Apartment Association (NAA) and the Massachusetts Apartment Association (MAA), for which she is currently serving as MAA President. Other leadership roles she has held with MAA include serving as Vice President, and on the Board of Directors and the Executive Education committee. She is also a board member of the Greater Boston Real Estate Board. Jen is a certified Advanced Instructor for the NAA and earned the National Apartment Leasing Professional (NALP) credentials, having been recognized with the award for NALP of the year in 2005. In addition to her industry service, she has volunteered her time as a Troop Leader for the Girl Scouts. She earned a Bachelor of Arts degree from Syracuse University.