Regional Property Manager, 12 years at chr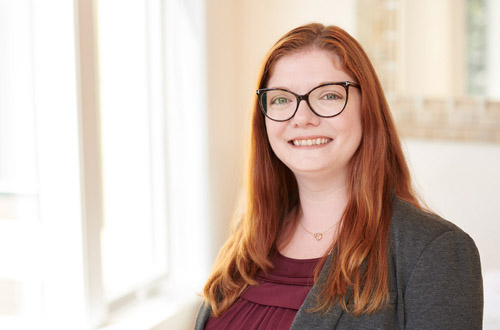 Since joining Chestnut Hill Realty in 2011, Kaitlyn Carlo Hesse has held various property management positions and has helped oversee new property acquisitions as well as property renovation and development.
In her current role as Regional Property Manager, Kaitlyn is responsible for a portfolio that includes the Water View Apartments, Norwood Gardens, and Waterfall Hills with a total monthly gross income of over $2 million. Under her direction are four property managers and their respective teams with whom she works closely to ensure that ownership interests and property goals are met and on budget while also maintaining staffing levels and top-notch customer service.
During her tenure, Kaitlyn has helped oversee numerous successful property developments and acquisitions. Working in coordination with the Construction Department, Kaitlyn helped oversee the extensive, award-winning renovations at Water View Apartments--an impressive achievement especially considering that the renovations occurred while the property was occupied. Additionally, Kaitlyn was part of the acquisition and renovation of the 200-unit Dupont Property in Cambridge. She is an integral member of the CHR community and Senior Leadership Team, having served on the Yardi Task Force and Mentorship Program as well as the committees for Recognition and Appreciation, Conference, and Maintenance.
In addition to being a licensed Real Estate Salesperson in Massachusetts, Kaitlyn holds three industry designations: Certified Apartment Portfolio Supervisor (CAPS), Certified Apartment Manager (CAM), and National Apartment Leasing Professional (NALP). She is an active member of the National Apartment Association (NAA) and has been either a nominee or recipient of various awards with the Rental Housing Association (RHA). From her work with animal shelters and veterans programs to food pantries and meal delivery services, Kaitlyn is devoted to a broad array of local charities, demonstrating that she is as integral to the betterment of her home community as she is to that of CHR. She earned a Bachelor's degree in Business Administration with a concentration in Entrepreneurship from Salem State University.