We will be conducting a lottery for 35 income-restricted (also known as "affordable") apartments at the location listed. There are 175 multifamily rental apartment units in 12 buildings, including one 3-4 story elevator building and eleven townhouse style buildings. Of the 35 income-restricted units, 6 units will be income-restricted to households earning at or below 30% of AMI and 29 units will be income-restricted to households earning at or below 50% of AMI.
Townhome Affordable Site Map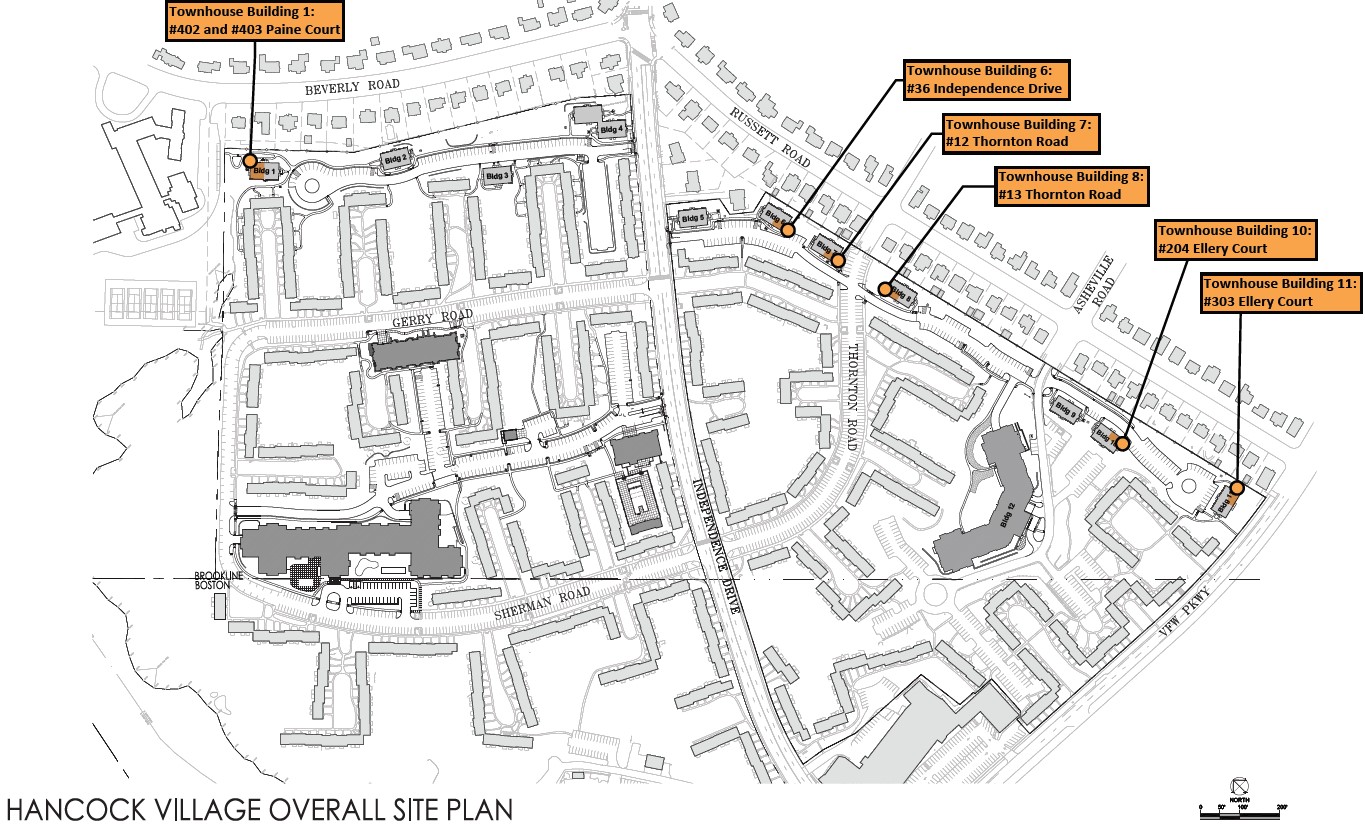 Available Floor Plans
3 Beds / 2 Full Baths
1,431 SQ FT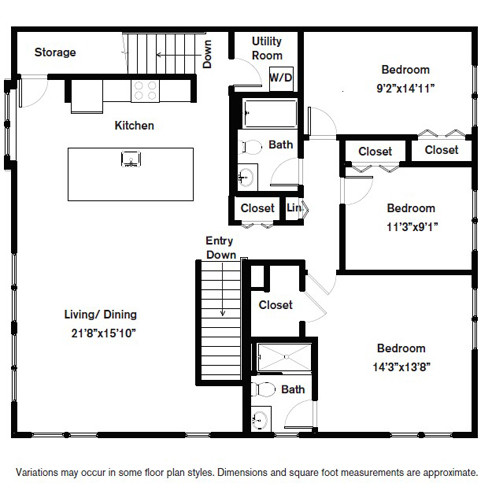 3 Beds / 2 Full Baths
1,457 SQ FT (HANDICAP ACCESSIBLE)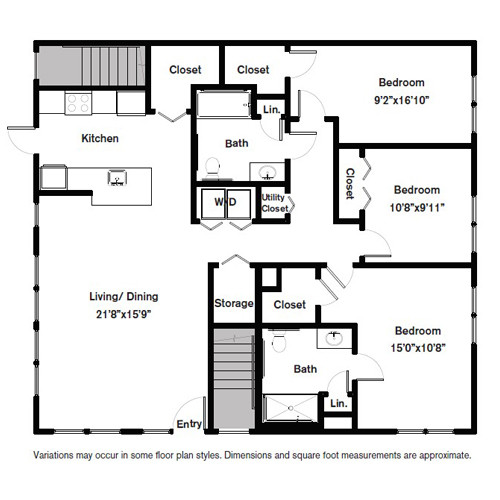 3 Beds / 2.5 Full Baths
1,432 SQ FT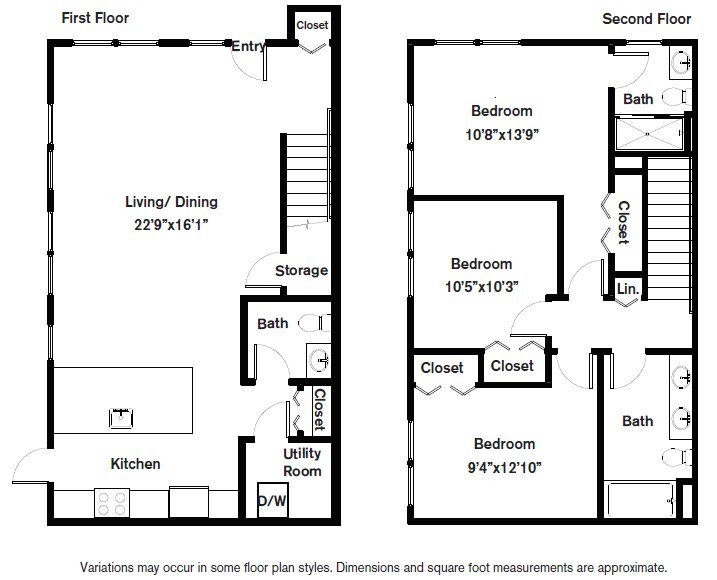 Apartment Home Features
Brand new construction
Wall-to-wall engineered hardwood natural red oak flooring
Crown molding
6-panel doors, painted wood
Custom white melamine closet systems with motion sensor lights
Dedicated on-demand hot water heater for domestic and heat
Central AC
Wired for CATV and Internet
USB-integrated electrical outlets
In-unit stacked washer and dryer
Accessible unit with side-by-side washer and dryer
Kitchen

Under cabinet lighting
Recessed lighting over peninsula and counters
Black quartz composite countertops
Stainless steel GE appliances (range, microwave hood, French door refrigerator with dispenser
Accessible unit with electric wall oven, cooktop
Bath

White thermofoil vanity cabinets
Carrerra marble countertops
Sliding glass doors on tubs, showers
Tile bath and shower surrounds
Tile flooring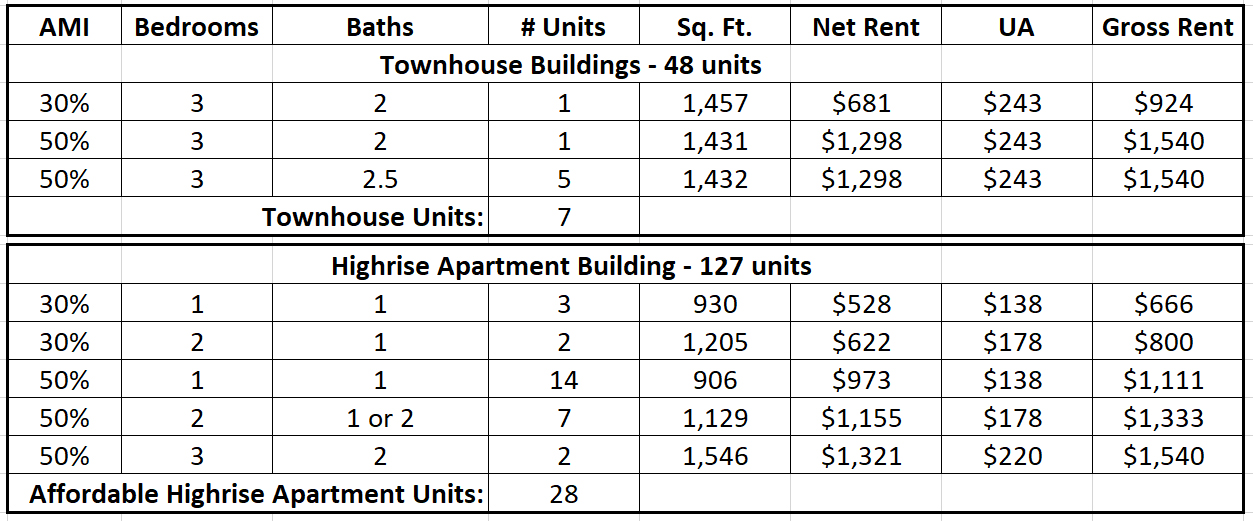 Rents are calculated using the Brookline Housing Authority utility allowances (Rates are subject to change)
Tenants are responsible for heat, hot water, electric cooking and other electricity 
 

Application Information:
Application Availability: Applications are available as of September 15, 2020.
To obtain a hard copy of the application: Call (781) 992-5311 / Relay: 711 or send a request through email with your mailing address to HV-Affordable@RentCHR.com.

CLICK HERE TO DOWNLOAD THE LOTTERY APPLICATION (PDF HARD COPY)
CLICK HERE TO COMPLETE THE FILLABLE PDF VERSION* OF THE LOTTERY APPLICATION

*Instructions to Complete the Fillable Application:
If applicants choose to complete the fillable pdf application, prior to emailing, faxing or mailing the completed application back to the designated application submission email address, fax number or mailing address specified on the application cover letter or flyer, be sure that:
1) All adults sign/date all signature areas (either electronically or after physically printing the application packet); and
2) Applicant attaches valid/corroborating documentation of any applicable local preference as elected by applicant on the Local Preference Election Form within the application packet.

Information Session:
Informational meetings will be held on-line (rather than in-person due to the COVID-19 pandemic) on October 21, 2020 at 12pm and November 2, 2020 at 12pm through Go-To Meeting:
https://global.gotomeeting.com/join/602782069
United States: +1 (408) 650-3123
Access Code: 602-782-069

Application Deadline For Entry Into Lottery:
Completed applications must be received by Monday, November 23, 2020 at 5:00pm.
To submit an application:
EMAIL: Applications can be emailed to HV-Affordable@RentCHR.com.
FAX: Applications can be faxed to (781) 237-5078.
MAIL: Completed paper applications must be submitted by mail to the following address and must be received on or before Monday, November 23, 2020 at 5:00pm.
Residences at South Brookline (ROSB) Lottery
c/o Maloney Properties, Inc.
27 Mica Lane, 3rd Floor
Wellesley, MA 02481

Free language assistance is available for those whose primary language is not English or have limited English proficiency. For more information or reasonable accommodations for persons with disabilities, please call (781) 992-5311 / Relay: 711.

Applications will be reviewed for eligibility prior to the lottery. We will send emails to applicants upon receipt and processing of their applications. We will review applications to ensure they are completed correctly and that the property documentation has been submitted.

Applications must be fully completed and received by Monday, November 23, 2020 at 5:00pm via mail, fax or email (detailed above) in order to be considered for entry into the lottery. NOTE: Completed applications received after the lottery deadline will be placed on a post-lottery waiting list.

Applicants with Disabilities and Reasonable Accommodations:
For more information or if you or a family member has a disability or limited English proficiency, and as a result need assistance completing the application and/or require any assistance during the application process, including participating in the information meetings please call (781) 992-5311 / Relay: 711.

Hancock Village Community Information:
HANCOCK VILLAGE COMMUNITY POLICIES

Lottery Process:
The lottery process is coordinated and administered by Maloney Properties.

The property is located on Independence Drive in the Brookline section of Chestnut Hill, MA, within the existing Hancock Village apartment complex. The Residences of South Brookline will be managed by Chestnut Hill Realty.

Lottery Information:
Expected Move-Ins: Estimated February 2021 to May 2022. 

Scheduled Lottery Date: Applicants for all 35 affordable units will be chosen through a lottery which will be held online on December 1, 2020 at 12pm. All applicants must meet the property's Tenant Selection Plan criteria.

Lottery Agent:
This lottery is being managed and administered by Maloney Properties, Inc., 27 Mica Lane, Wellesley, MA  02481